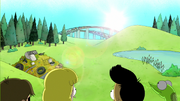 Traffical Island is an area that made its first, and so far, only appearance in the episode of the same name. Sanjay and his pals try to use a shortcut to The Frycade, only to discover that they're stuck at Traffical Island.
Appearance
Traffical Island is where heavily traveled freeways meet. In between the freeways there is a large median with trees, a hilly open field, some garbage, and a small pond.
Gallery
Ad blocker interference detected!
Wikia is a free-to-use site that makes money from advertising. We have a modified experience for viewers using ad blockers

Wikia is not accessible if you've made further modifications. Remove the custom ad blocker rule(s) and the page will load as expected.